🔥
Affiliation: 50% commission on each first sale.
Learn more
Generate, publish, rank.
Want to launch a PBN, test niches, or simply feed your website with cost-effective articles? Our solution is for you.
We use the GPT technology (GPT-3 / GPT-4) developed by OpenAI mixed with our own solutions to generate quality texts at the best price.
Estimation
Estimate the true price of generation for the requested number of articles.
Number of words per article:
* Approx.
---
Estimated price (GPT-3.5-turbo):
$30.00
(Approximately $0.30 / 500 generated words)
How does it work?
We take care of understanding and mastering GPT technologies for you.
Join Jarside

Sign up now to start generating articles with Jarside.

Get credits

Then choose a credit pack. One credit will generate 1 article of 500 words and costs $0.30**.

Add your site

Then add the site where you want to publish your generated articles.

Select or create a skeleton

Use a skeleton that will serve as a template for generating your articles. You can either create one or choose one of ours.

Define your themes and keywords

Choose the keywords you want to use for generating your articles.

Schedule and publish

Once generated, you can schedule and publish your articles directly on your Wordpress.*
* If your site is not a WordPress site, you will be able to export your articles without any problem.
** With the gpt-3.5-turbo model. If you choose the GPT-4 model, the price is: $1.20 / 500 words.
Automatic mode
New 🔥
You add your site, you fill in your preferences and Jarside takes care of analyzing, generating and publishing your articles automatically.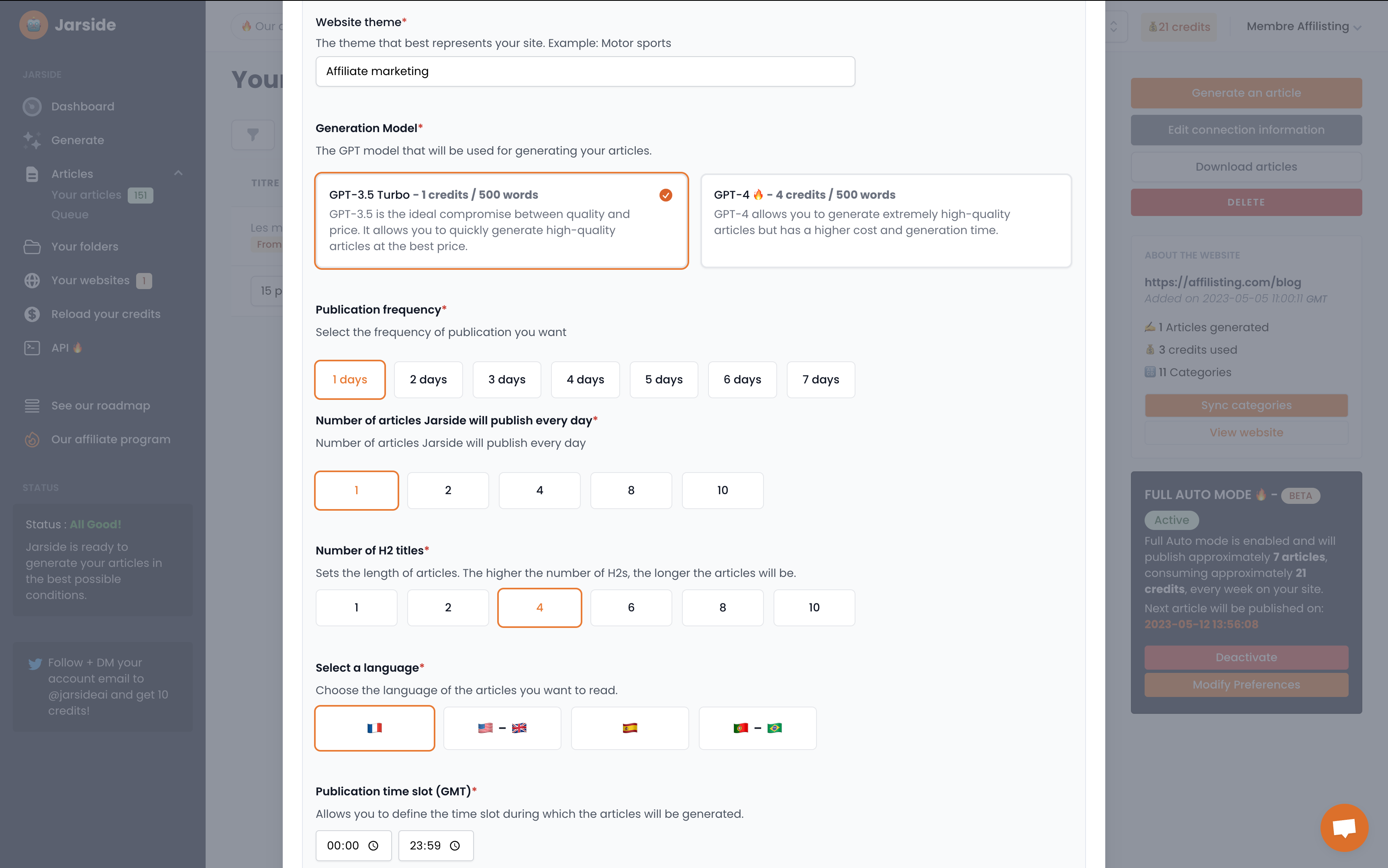 Examples of articles generated by Jarside.
These articles are not from articles generated by our customers but from our test accounts that use the same version of Jarside as our customers.
Our offer, the cheapest on the market
All prices shown are exclusive of taxes.
Jarside
$0.30 / 500 words
(with GPT-3.5-turbo model)
$1.20 / with GPT-4
Payment on usage**
No limitation of sites, you want to feed a very large network!
Publish directly on your sites*

Schedule the publication of your articles*

Multilingual

SEO optimized text

Generate articles using OpenAI (GPT-3.5-turbo / GPT-4)

Use our templates

Create your own templates

Access to our API to control Jarside via your applications 🔥

Access to "Full Auto" mode that analyzes your site and publishes for you automatically every day without you having to do anything. 🔥*
*Compatible only with Wordpress.
**Credit purchase allowing the generation of articles. 1 credit = $0.30. With the GPT-3.5-turbo model, the cost of generation is 1 credit / 500 words. With the GPT-4 model, the cost of generation is 4 credits / 500 words.
Integrate Jarside into your processes via our API
Generate hundreds of articles directly from your application using our API at no extra cost.
curl 

--request

 

POST

 'https://api.jarside.ai/v1/articles/create' \ 


--header

 'Authorization: Bearer YOUR_TOKEN' \ 


--form

 'keyword="futur de l'\''intelligence artificielle"' \ 


--form

 'openai_model="gpt-4"' \ 


--form

 'h2_count="4"' \ 


--form

 'need_bold="true"' \ 


--form

 'language="fr"' 





FAQ's
How to join Jarside?

Just click on Sign up at the top!

What is the validity period of my credits?

Your credits have no validity period. However, after a period of inactivity of 6 months, your credits are reset to 0. You will be notified via email reminders 1 month, 15 days, and 1 day before the reset.

How does the billing work?

You buy the credit pack that interests you the most, and then you can start generating your articles. The cost of the generation will be deducted from your credits.

Is there a limit to article generation?

Yes, several limits are in place to ensure a quality of service for all our users.

Can I get a refund?

No, as mentioned in our terms of use, we do not refund any credits used or unused. We therefore advise you to only buy the credits you need.

My site is not a Wordpress, how can I benefit from scheduling?

Currently, it is not possible to benefit from scheduling if your site is not a Wordpress. But you can always export your generated articles.